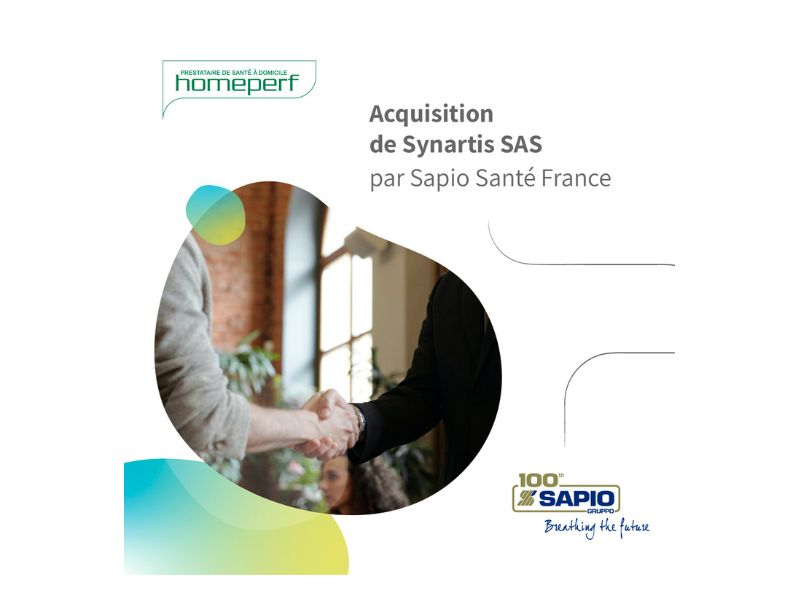 Paris (France), July 18, 2023 – Sapio Group, a leading italian company in the production of gases in the industrial and healthcare sector and in home care, announces the acquisition of the company Synartis. This merger is part of the ambition of Sapio and its CEO to invest up to 200 million euros in Europe, and more specifically in France, by 2025. 
The acquisition of Synartis by Sapio strengthens the Group's position as an independent European player in the home care market. The Group also intends to give new impetus to its growth in the transalpine market and provide the first evidence of its investment ambitions in France and Europe. The company's long-term goal is to become one of the leading national players in the sector, providing highly qualified personnel throughout France.
Created in 2015, Synartis is a home worker specialized in complex and chronic wounds, present in the Rhône Alpes Auvergne (Pierre Bénite) region, as well as in the Hauts de France (Aire sur la Lys). Following the acquisition, the Synartis service will be offered through the Homeperf network and provided by Synartis nurse coordinators. This service has a huge potential for growth throughout the territory and the complementarity of the services offered by Homeperf and Synartis, as well as the dynamism and agility of the teams, will enable us to achieve a common goal: to improve patients' quality of life while facilitating the work of healthcare professionals in an ever-changing environment.  
The Sapio Group, with a turnover of over 817 million euros in 2022 and 2,303 people, of which over 500 in France, is the leader in Italy and is also present in Germany, France, Spain, Turkey and Slovenia. The acquisition of Synartis represents an important step in the Group's development in the home care sector, particularly in France, the leading European market.