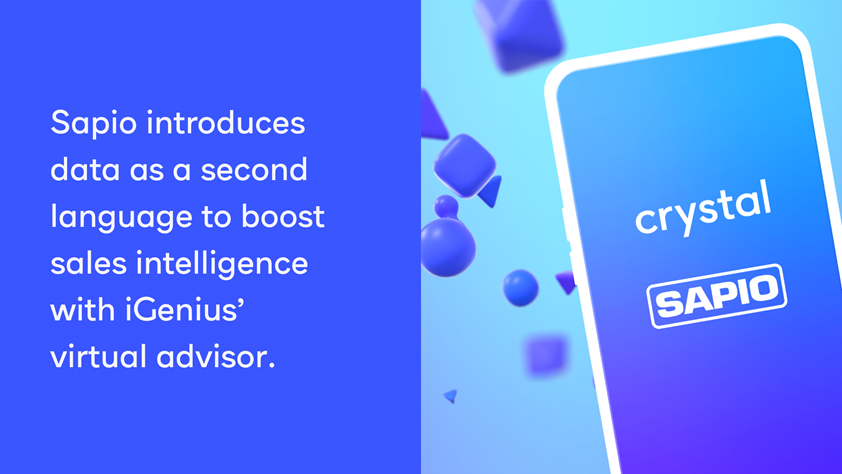 Milan, 17th December 2021 – Sapio invests in augmented intelligence technology provided by Genius to power the future of work, delight customers and increase efficiency.
Crystal, the virtual advisor developed by iGenius to revolutionize the way companies work with data, will support Sapio's sales teams in managing their customers portfolio, inventory and stock control, and coordination among colleagues. 
As data and analytics become pervasive in all aspects of businesses, communities and even our personal lives, the ability to communicate in this language — that is, being data literate — is the new organizational readiness factor.
Crystal will virtually connect among  the company databases to create a single source of truth that provides real time data to business users. Crystal will increase the data literacy of Sapio's commercial team, to make the best data-driven decisions across all touchpoints, by establishing information as a second language.
"At Sapio we believe data-driven decisions will define success. The partnership with iGenius is key to accelerate digital transformation, especially in a world where hybrid work is here to stay." Said Christian Pezzin, Sapio's Chief Digital Officer. "In our case, we understood that our sales team needed to access information rapidly, independently and from anywhere – from home, the office, in a client's waiting room before an important meeting. The goal is to grow the volume of sales and to improve customer satisfaction."
Augmented Intelligence 
Crystal provides a composite AI capability, combining innovative usage of AI techniques into a coherent platform. This includes knowledge graph techniques to smartly ingest and augment existing data to be leveraged, machine learning capabilities to detect trends in data, natural language processing techniques to communicate with users, and rules to identify what is important to communicate.
"Our augmented intelligence solution is all about empowering people." said Alessandro Davolio, Sales Director at iGenius. "Natural language introduces a huge opportunity for business users and executives to get value from their data quickly without the need for deep, technical skills or expertise in working with data. Crystal allows users to discover insights that could have otherwise gone unnoticed in existing data, as well as explore new data, all while minimizing human biases and accelerating time to insight. We are very excited and proud to support Sapio in this journey."
According to Gartner, by 2023, data literacy will become an explicit and necessary driver of business value, demonstrated by its formal inclusion in over 80% of data and analytics strategies and change management programs.
iGenius
Founded in 2016 by Uljan Sharka, iGenius is the scale-up on a mission to reimagine data interaction for businesses. iGenius is the creator of Crystal, the Virtual Advisor for data intelligence. Crystal was recognized by Gartner as a 2021 Cool Vendor in AI Core Technologies for its virtual advisor, Crystal, as well as listed in Gartner's 2021 Market Guide for Augmented Analytics Tools.
Sapio 
The Sapio Group, founded in 1922 with headquarters in Monza, operates in the industrial and medical gas sector and in homecare all over Italy, and in France, Germany, Slovenia, Turkey and Spain. With a turnover of around €700 million and more than 2200 employees, it produces, develops and markets gases, innovative technologies and integrated services for the industrial sector. Technical gases are used in a vast range of production sectors, from the food industry, the environment, energy, chemicals and pharmaceutics, to electronics, engineering and metallurgical industries, glass and cement. In the health sector, in addition to producing and supplying medical gases for hospitals and social and health facilities, it also offers medical devices, integrated home care and palliative care. It is present in the biotechnology sector with a biological resource centre capable of providing public and private research institutes (hospitals, universities, clinics), biotech and pharmaceutical companies with complete solutions for the conservation of biological material, laboratory services and DNA sequencing.